At home, the collector and seller owns watches, books, paintings and typewriters from 1895.
In Bairro Vila Carvalho, Gilberto Espíndola, 65, has transformed the house where he lives into a museum called "Algo Mais Antiguidade". The place is a real-time tunnel that takes visitors to different centuries and historical periods. Among typewriters, family portraits, Portuguese books, watches and radios, the collector and seller maintains a collection steeped in history.
In 2014 he started selling antiques at Praça Ary Coelho and other outdoor fairs in Campo Grande. Most of the objects were acquired during Gilberto's wanderings in São Paulo and Rio de Janeiro years before. In 2020, the collector changed his address and got more space to store the objects.
THE B-side visited the property which is full of details, from floor to ceiling. In the living room, Gilberto has a shelf with trolleys, porcelain plates, lamps, a piggy bank, fans, statues, one object in particular that catches the eye. Kept in a frame and protected by glass, Gilberto has a 1931 decree signed by Getúlio Vargas and Eurico Gaspar Dutra.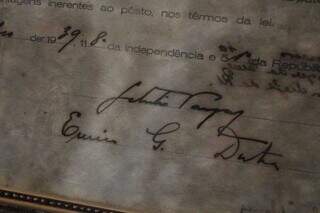 On the right wall of the room he has several old portraits that he says he found scattered on the floors of fairs he attended. Children, couples, a gentleman in a suit and a lady in a turtleneck make up the decor. On the shelf, Gilberto has a book on the 1st centenary of Brazil, a book on the Louvre museum written in French and two others on museums in the northeast and India.
In addition to the books, the seller has a cupboard in another room where he keeps old barber items, such as razors, scissors, combs, manual clippers and shaving brushes. In the rack above are the paper punches, pencil sharpeners, mate kit, and iron knives. In the other cabinet are compotes, teapots, kettles, silver-plated vases dating from the 1800s, a Chinese inkwell and period matches.
In the middle of the visit, Gilberto jokes that you would have to spend the day there to see all the pieces. "Here you've only seen a thousand, but there's another thousand over there," he says. Although he is surrounded by objects of different uses, formats and years, Gilberto comments that not everything is for sale. "Old and hard-to-find pieces, called relics, cannot be found in stores. There are pieces that I'm not going to sell, because I want people to know that," he says.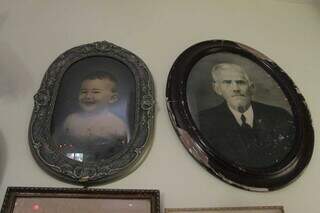 Thanks to the work, he also learned to do restorations and repairs of all kinds. Through the Pinterest app, Gilberto sees inspiration on how to better organize keepsakes. At the back, he has a workshop where he puts into practice what he has seen on the internet. "It's interesting, because everything we think about, someone has already thought about it," he says, pointing to a board with keys inside.
Each environment presented by Gilberto offers a new story or curiosity behind the objects. In one of the three bedrooms in the house, he has a wooden bedroom restored by a friend who died some time after restoring the material. In the same room, the wooden cabinet is filled with black-and-white portraits of families and children, paintings, and newspaper clippings from the World War II period.
According to the collector, trips usually bring back a lot of material for the collection. "I come back with a full car and I still have to send things to the Post Office, because it doesn't fit in the car," he says. Since he has many items from the previous century, Gilberto reports that people are commenting. "There are people who say they carry negative energy, but I really don't believe that. I'm a very positive person and I don't get shaken up by things," he said. he.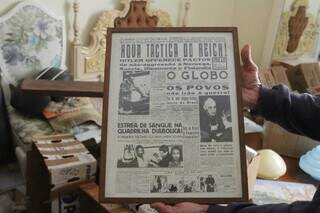 The resident's kitchen is also a show in its own right, as there are appliances that are no longer manufactured. Coffee makers, blenders, blenders, grinders, and two refrigerators are part of the collection. In addition to them, Gilberto has more than five different water filters, lamps and tableware in copper and aluminum.
The appearance of vintage objects, according to him, happened naturally and gradually. "It's not from our time, watching it I started to like it and add it up. When you see it, you have a collection at home," he explains.
The last piece shown by Gilberto is one of the most interesting in the house. This is the real museum where everything has value, but nothing is for sale. Highlights include typewriters from 1895, 1920 to 1960, Polaroid and Canon cameras, a Keystone projector from the 1930s, and a camera called a 'lambe-lambe'.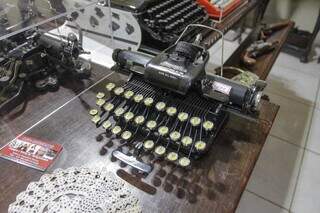 To complete the museum, the collector also has calculators, a cash register, a carved wooden Teleart crank telephone, a 1950s bakelite telephone and a line of JK Ericsson color telephones from the 1950s. 1960. These are the first telephones installed in Brazil," he points out.
The museum has another collection of wall clocks from 1935, radios, a retro Philco television, countless radios and two carved wooden garruchas, in addition to a collection of porcelain dolls. With so many objects in the house, it is difficult for Gilberto to count all the objects that make up the collection. "It's more than 10 thousand," he concludes.
If you want to visit the Algo Mais Antiguidades museum or buy the other pieces on sale, Gilberto's contact is (67) 98160-7175. It is necessary to contact the collector for the space.
Check out the image gallery:
follow the B-side on Instagram @ladobcgoficial, Facebook and Twitter. Do you have a guide to suggest? Post on social media or straight from the street via WhatsApp (67) 99669-9563 (call here).