The war in Ukraine is set to last, say more and more observers, but international justice does not wait until the end to hold accountable those who violated its rules. On Tuesday, Estonia, Latvia and Slovakia joined the Joint Investigation Team (JIT) created on March 25 by Poland, Lithuania and Ukraine to investigate alleged international crimes committed in Ukraine.
"Today is an important day", congratulated the prosecutor of the International Criminal Court (ICC). "JIT has three new members. It is something necessary to deal with crimes on the scale of those we have often seen at the ICC. We need to build partnerships. And what this shows is that there is no dichotomy between cooperation and independence. Cooperation does not mean competition. We must join hands in the name of the common interests of humanity.
Karim AA Khan spoke in these terms during a press conference held this Tuesday in The Hague, which Expresso attended remotely. Unprecedentedly, the ICC prosecution — which on March 2 opened an investigation into the crimes that took place in Ukraine on the basis of reports presented by 39 member states — is also a participating member of this JIT, in circumstances that he himself detailed .
The ICC (whose statute is subscribed to by 123 member states) has full access to all information shared in the JIT, but is not obligated to share the information it collects with other members. The ICC is an independent court with a specific mandate, its prosecutor explained. "It is not European values ​​that we are protecting. The ICC is not an arm of the European Union. These are human values," explained Karim AA Khan.
Cooperate to avoid duplication
Alongside the investigations carried out by the six member states of the JIT, thirteen other countries are carrying out their own procedures. Non-governmental organizations and civil society associations are also on the ground collecting information on alleged international crimes committed in Ukraine.
"It's not a mega deal. It doesn't mean that we copy each other and do the same thing in different countries. JIT focuses on areas where we need to cooperate and helps resolve overlapping situations. We have all different processes," explained Andres Parmas, Attorney General of Estonia.
Evidence collected by multiple countries and stored in different jurisdictions can be counterproductive. "We have a great need for coordination. And this is where Eurojust comes in. We have more than 20 years of experience in large-scale operations," said Ladislav Hamran, President of the European Union Agency for Criminal Justice Cooperation (Eurojust ), a partner of this international judicial cooperation mechanism from the very beginning.
The contribution of this EU agency consists of providing legal, financial and logistical support, such as the supply of satellite phones, laptops, printers, 3D scanners, bulletproof vests, helmets, all-terrain vehicles, drones and other important equipment for collection. of evidence.
"We can safely conclude that the war in Ukraine will be the most documented armed conflict we have witnessed so far," commented Ladislav Hamran.
Translators, so that everyone understands each other
Eurojust, which hosted Tuesday's press conference, is also responding to translation needs so that forensic reports can be read by everyone, regardless of nationality, and so that prosecutors, investigators and police, when together, can express themselves in their mother tongue and be understood by all.
"Never before in the history of armed conflict has the legal community reacted with such determination. The decision to form this JIT was taken right here, in the Eurojust building, just six days after the start of this conflict," added the agency's president.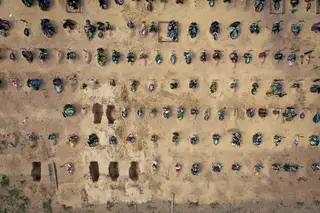 Dariusz Barski, Poland's national prosecutor, explained that in his country, which has already hosted more than 3.5 million Ukrainian refugees, a large part of this work consists of interviewing people to gather information that can be useful for any investigation.
"These lawsuits also refer to the activities carried out by the authorities and officials of Belarus who made their territory available for this Russian-initiated war of aggression against the independent territory of Ukraine," Barski said. "I encourage other countries to join the JIT."
Lithuania, another founding country of the Team, invokes its experience of more than 30 years of investigating crimes attributed to the Red Army during the break-up of the Soviet Union (1991), of which the Baltic country was part. "We want to share this experience with our colleagues in Ukraine," said Nida Grunskiene, the Lithuanian Prosecutor General. "We made the decision [de participar na JIT] after evaluating the public information that reached us at the beginning of the war in Ukraine.
Ukrainian justice is fast and slow
Present at the press conference, Iryna Venediktova, Prosecutor General of Ukraine, was confronted by a journalist with the speed with which the country tried the first Russian soldier: a 21-year-old citizen, sentenced to life in prison for the death of a 62-year-old man who followed on a bicycle, in the region of Sumy (north-east).
"In Ukraine, journalists ask me why the trials take so long. 'Three months, so long, what have you done so far?' International journalists ask me: 'Why so fast?' ", did he declare. "We are going to court when we are ready."
The prosecutor said there are currently around 15,000 war crimes cases in the country and that Ukraine will prosecute around 80 suspects for these atrocities. He also admitted that investigations become difficult because the authorities in kyiv do not have access to certain parts of the territory, such as the Donbass region (east), for example. "But we have access to people."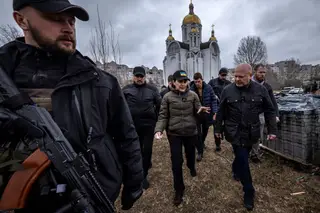 Last April, during his visit to the Ukrainian town of Bucha, where civilians have been executed, the ICC prosecutor uttered a sentence that resonated: "Ukraine looks like a crime scene".
This Tuesday, Karim AA Khan showed himself to be a confident man in the role of justice. "The costs of justice pale in comparison to the billions of dollars spent on conflict. It is cheaper to fund a judicial mechanism like this than to buy tanks and missiles," he said.
"I am a big proponent of universal jurisdiction. It is up to the States to decide whether or not to join the CEE. What we should do is applaud any authority, any independent prosecutor who is trying to uncover the truth and claim the rights of survivors. We are not in competition. It is a shared obligation. »