Press release of 07.05.2022
The fruits of the unique nationwide promotion of talented children and young musicians at the Landesmusikgymnasium Rheinland-Pfalz in Montabaur can be seen in numerous winners. In the past, some students have successfully participated in competitions such as "Jugend musiziert".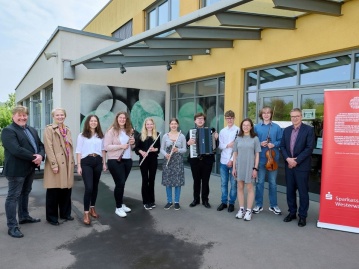 Montabaur. In order to support the school in this task, the Sparkasse Westerwald-Sieg provides the school with 6,000 euros per year for scholarships. This money is used to support students who are judged by a panel of subject teachers as particularly deserving of support. The amount of funding is used, for example, to buy an instrument that is urgently needed or to participate in so-called master classes if the parents cannot afford the costs themselves.
Current scholarship recipients are Oliver Bicanic (accordion, own instrument), Finja Fröhlich (flute, new instrument), Magda-Lena Gärtner (flute, new instrument), Philipp Kalter (piano/violin, violin bow), Luise Kaiser (piano, participation in master classes), Miriam Neubüser (piano, participation in master classes), Finn Strackbein (clarinet, new instrument/master classes), Clara Wagner (clarinet, didactic material in master classes).
During a joint meeting at the school, Gabriele Wieland, as first district councilor and deputy district administrator, together with Matthias Richter, event coordinator of the Sparkasse Westerwald-Sieg, took advantage of the opportunity to meet current fellows in person. The headmaster, Dr. Udo Rademacher from Sparkasse Westerwald-Sieg for his generous support which has now lasted 16 years.
As part of this funding measure, the eight Sparkasse scholarship holders will present themselves to the public on Tuesday, May 24 at 8 p.m. in the context of a classical concert at the Sparkasse Westerwald-Sieg office in Montabaur. Tickets for the concert are available at Sparkasse branches in Montabaur, Wirges, Ransbach-Baumbach, Höhr-Grenzhausen and Neuhäusel for 7 euros. Ticket reservations can be made by e-mail to matthias.richter@skwws.de. (PM)
---
More about this: Children and young people
Become a fan of the local edition WW-Kurier.de Montabaur on Facebook now!