Yehor Opanasenko is a member of the Ukrainian national tennis team. In order to be able to represent his homeland in sport, the 18-year-old was allowed to leave the country and has been playing tennis in Hamburg ever since. A portrait between war and future projects.
Yehor's mother never wanted him to be a footballer. That's why she signed him up for tennis practice. He was then four or five years old. He doesn't remember exactly. As he got older, he participated in tournaments. Winning was fun for him. Outside of school, he trained six days a week, often twice a day – for national tournaments, international tournaments, the national team.
Nothing has changed to date. The environment in which he trains, however: Together with his girlfriend Anna, Yehor fled to Hamburg before the war in Ukraine. Here, on the Allermöhe tennis court, bordered by a green fence, there is hardly any difference from his previous life. He trains at least two hours a day – except Sundays. Not much is happening this Wednesday afternoon. An elderly couple are standing in one of the squares and a gardener is sawing off branches from a tree. The courses aren't the best but playing here is better than driving two hours one way like they've done in previous weeks.
Yehor walks the court with the confidence of someone who knows what he's doing. He regularly drills with Anna, herself a professional tennis player – starting on the small court near the net, they quickly move on to rallies on the large court. You only need a few words to move on to the next exercise. If a mistake occurs, both laugh. During play break, they share a towel to wipe the sweat from their face.
A step-by-step escape
Everything seems normal, but it's anything but. Before Yehor came to Germany about a month ago, he didn't hold a racquet in his hands for two months. He says he feels like he has to start from scratch and get back to his old level of play.
Tennis was left without thoughts as Putin's troops invaded Ukraine. When the war started, Yehor thought he was dreaming. The fire, the gunfire, the tanks at your doorstep, he said, seemed surreal. He couldn't believe it was real. He and his family left Kyiv: they have a second home about 200 kilometers south of the Ukrainian capital.
They stayed there for a week or two, Yehor doesn't remember exactly. Then there was the sound of bombs exploding. They then went to friends near Lviv. At that time, many people were trying to get west from Kyiv and other cities, and traffic was jammed on the roads. In the end, it took them four days to cover a good 800 kilometres.
Leaving young – a special case
Yehor was able to leave Ukraine when he was 18 years old. According to the law, he should have stayed in the country. The Ministry of Sports requested that he and his coach leave the country so that he could continue playing tennis for the national team. The request has been approved.
Yehor's family remained in Ukraine, his father is not allowed to leave the country. You make calls every day. So far they are doing well. As Yehor talks about it, he slows down. His eyes go blank, he kneads his hands. Her eyes fill with tears. "Two days ago they heard bombs at the station. I think the station was bombed and it's completely destroyed," he says, and asks to ask the next question.
A room in Hamburg-Bergedorf
The war of Russian aggression in Ukraine has caused a huge desire to help the people of Hamburg. FINK.HAMBURG has compiled reports and portraits of people affected by the Ukrainian war in Hamburg in the series "War in Ukraine: Stories from Hamburg". From ballet to mission sailor, from influencer to tennis pro, FINK.HAMBURG shows how diverse the challenges of flight are.
Yehor's coach has a friend near Hamburg who he was able to move in with temporarily. Anna was with her sister in Spain before also coming to Germany. Finding an apartment of your own was difficult – either both received a refusal or no response at all. They were lucky only after returning to Hamburg from a tournament in Frankfurt: they found a small one-room apartment in Bergedorf via a website offering apartments for refugees.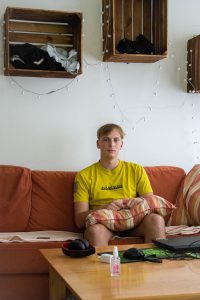 The wall opposite the front door is painted black. "Happy New Year" is written on it. "Great here!" There is also a drawing of a leek. Chalk messages on the wall bear witness to former residents and their guests. Yehor added the logo of Breaking Bad, his favorite series.
There are two slatted bases with mattresses on the floor, and a stuffed dog lies on one of them. Anna brought it from home. These are the only personal details of the apartment associated with them. There are two couches next to the bed, fruit crates hanging on the wall as shelves, and string lights. Yehor sits on one of the sofas as he speaks. Every once in a while, he doesn't seem to know what to do with his hands, grabs a pillow. He's focused – but it's a different kind of focus than on the tennis court.
Destruction everywhere
Although it is difficult for him, Yehor wants to talk about the situation in Ukraine. About friends whose homes were destroyed. About his grandparents who grew up during the Second World War and who are today witnesses of this war. About people stuck in bunkers without food, water or electricity. He shows photos of the Irpin tennis courts where he used to train – and which are now in ruins. "Now it looks like this. Everything is destroyed. Most cities look like this I guess. Mariupol. destruction everywhere. All cities are destroyed," Yehor said.
Anna is sitting at the kitchen counter, bent over books, her back to Yehor. Still, she listens: if Yehor doesn't have a word in English, he briefly asks for patience so he can look it up on his cell phone. When he talks about what Russian soldiers are doing to the Ukrainian people, he searches for the right term, says the word in Ukrainian. "Rape," Anna helps.
Plan A: From Hamburg to the Grand Slam
Yehor left Ukraine to represent it on the tennis court. He won't stay in Hamburg – also because of tennis. In the summer, Anna and Yehor move to New Mexico, USA to train. He doesn't know anyone there, but he knows a coach who is also from Kyiv. The plan has been in place since September and the two have received scholarships there.
Yehor will study kinesiology so that he can later help Ukrainian tennis players. Not just them – he thinks a lot of people might need medical support. He thinks it's a good job. For now, it's plan B. "The biggest goal is to play the Grand Slam. I think it's possible," says Yehor. His biggest role model is Roger Federer, he likes the way he plays.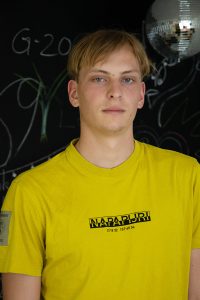 He must first take care of a visa for the USA. An old friend who recently collected all the necessary documents for himself will help with the application. Yehor is not nervous. He thinks he will have a great time in the United States. He doesn't know yet what will happen next. The normal duration of studies is four years, which is long. At some point he wants to return to Ukraine, he misses his home. But only when the war is over. He doesn't know when it will be. As soon as possible, he hopes.