On Tuesday evening (14), Samsung launched its new Gaming TV Neo QLED QN90 in Brazil, focusing on those who want to use it as a gaming monitor, for games with greater fluidity.
It culminates in the sizes of 43 or 50 inches, which serve the purpose of use better. Both of these smaller sizes have a refresh rate of 144Hz, to provide high response in titles with that demand – like first-person shooters.
Smart TV still offers a Super Ultra-Wide screen, with 21:9 or 32:9 aspect ratio options, in addition to the traditional 16:9, for those who want a wider viewing angle. The games menu, on the other hand, provides quick info, from input lag, fps and HDR, to Bluetooth phone connection and other tweaks.
The Neo QLED QN90 comes with four HDMI 2.1 ports and offers Freesync Premium Pro technology, designed to equalize console, PC and TV frequencies, as well as prevent graphics with poor frame formation and dropouts .
This model supports 4K HDR and Mini LED resolution, to replace each conventional LED with 40 mini units, which seek to increase brightness and contrast. In terms of sound, the highlight is Dolby Atmos and Som em Movimento – the latter accompanies the sound of objects in the scene. The sound system comes with 60W RMS power and 4.2.2 channel sound.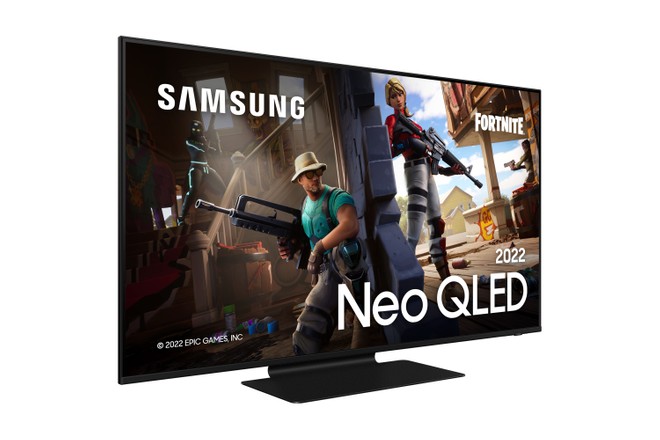 There's also the Samsung Gaming Hub platform, aiming to bring together a series of game streaming services. One of them is Xbox Game Pass, thanks to the partnership between Samsung and Microsoft, with direct access via the TV – without the need for an external console or PC.
With the new Smart Hub, you can collect movies, shows and games in one place. You can also make video calls thanks to the compatibility with the camera of the mobile phone or a compatible Logitech, as well as the Multiscreen function, to display two contents at the same time on the big screen.
price and availability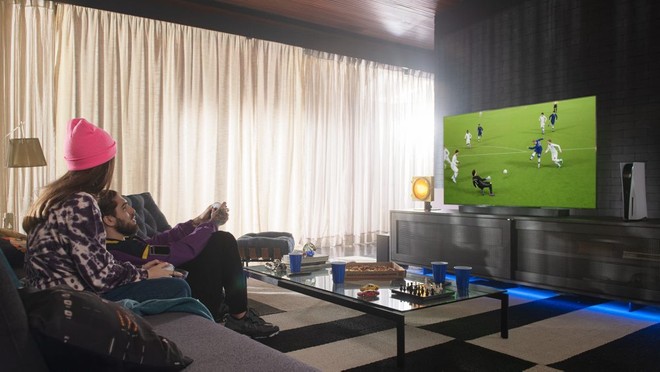 Samsung opened pre-sales for the 43-inch and 50-inch versions on Tuesday (14), which can be purchased through the brand's online store in the country. The Gaming Hub will be available worldwide – including Brazil – from June 30, 2022. See values:
Samsung Neo QLED QN90B 43" Gaming TV: R$5,999
Samsung Neo QLED QN90B 50" Gaming TV: R$6,499
Samsung Neo QLED QN90B 55" Gaming TV: R$7,499
Samsung Neo QLED QN90B 65″ Gaming TV R$ 11,399
TudoCelular also came to experience the new Samsung TV in person and posted how-to articles about it. You can see this link.
So, did you like the new Samsung TVs designed for gamers? Comment with us!
Original text (05/26/2022)
Samsung Confirms Brazil Launch of QN90B Neo QLED Gaming TV with Mini LED
THE Samsung has confirmed that it will bring to the Brazilian market the top model of its new family of 2022 televisions with Mini LED technology. It's about Neo QLED QN90Bwhich is distinguished by the provision of features intended for gamers.
Although it has already started promoting the product on social media and on its official website in Brazil, the company has not yet released a specific date for the launch, nor the price the TV will cost here.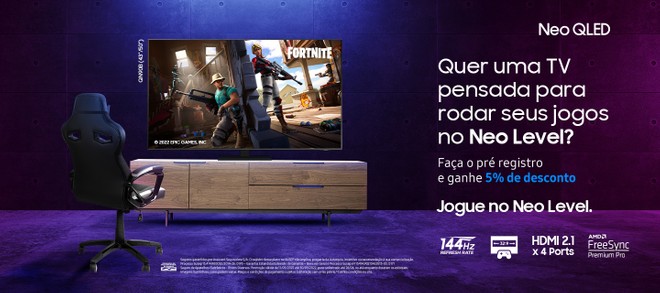 However, in addition to guaranteeing the arrival of the novelty in the country, the advertising material provides some interesting details. The QN90B will be sold in Brazil in 43-inch and 50-inch sizes, targeting those looking for a 4K monitor with advanced features.
The QN90B TV features a VA LCD panel and promises to deliver high contrast, combined with Mini LED lighting with hundreds of independent dimming zones to intensify dark areas of the picture to deliver deep blacks .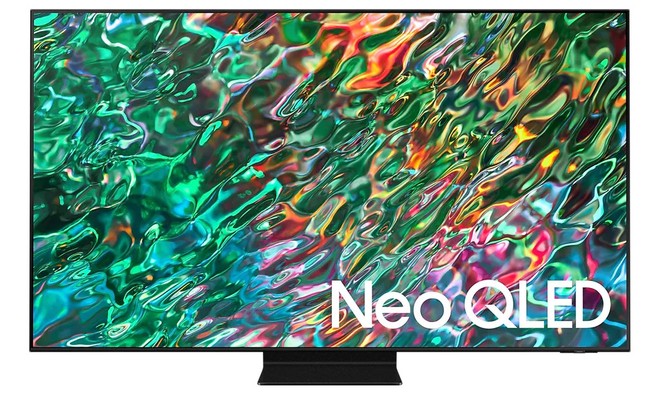 The screen comes with 4K resolution and refresh rate 144Hzin addition to support for AMD FreeSync Premium Pro technology and Low Framerate Compensation (LFC) technology, which promises to deliver smoothness even when the displayed frame rate reaches 48Hz.
O the model also has 4 HDMI 2.1 ports and a few additional features to enhance gameplay, such as ultrawide modes in 21:9 and 32:9 aspect ratios and Auto Low Latency Mode (ALLM), which automatically activates game mode to reduce latency.


economy and market
May 26


economy and market
May 26
Finally, the QN90B Neo QLED Gaming TV also comes with Adaptive HDR10+ and Gaming HDR10+ support, with a peak brightness of 2,000 nits, 4.2.2 channel sound system and Dolby Atmos, Wi-Fi 5 Dual Band and Bluetooth 5.2. .
With this, the QN90B is expected to compete directly with the C1 48″ C1 and 42″ OLED models, both of which are competitors LG. Interested persons can register on the brand's website to receive news and 5% off purchase at launch.
Did you like TV? How long do you think she will arrive here in Brazil? Tell us in the comments below!
See also