Exhausted by an unfavorable economic climate and a series of negative events such as the Terra Luna scandal or the bankruptcy of FTX, some companies have had to say goodbye to a large part of their workforce. As the wave of layoffs continues, some profiles are still sought after by crypto companies.
Making a fresh start, entering the unknown and getting used to new rules has never been easier. However, thousands of professionals from all walks of life have placed a bet on integrating crypto companies in 2021.
The world of crypto may seem complicated at first glance, but it usually only takes a few months to find your way around. In addition, the blockchain industry has one of the fastest growth rates in the world. Despite a relatively steep learning curve, crypto company salaries attract applicants from a variety of age groups and specializations.
Unfortunately, the year 2022 has not been kind to the crypto asset market. Given the extremely negative conditions, some companies have had to lay off a large part of their staff, while others have suspended their recruitment campaigns.
To update our readers on this situation, we have reached out to several recruiters/headhunters, who have provided us with some very revealing numbers. For example, the demand for profiles specialized in crypto increased by 100% between 2020 and 2021.
Crypto jobs: the key figures
Whether on LinkedIn or other platforms, crypto job opportunities have surged over the past year. According to data from Crypto Parrot, the number of offers increased by 100% between September 2020 and July 2021.
Unsurprisingly, 30% of published offers matched IT profiles. A year earlier, these profiles accounted for 34.80% of jobs offered by crypto companies. Management positions come second with a share of 10%, an increase of 29.87% from 2020.
Interestingly, the number of job openings for human resources specialists has grown by 200% annually, faster than any other occupation. Overall, the number of crypto and blockchain job openings is up 118% as of September 5, 2020.
Likewise, most crypto companies offer telecommuting, making them even more attractive to job seekers. A recent survey by crypto investment firm Framework confirms crypto companies' hunger for remote working.
As part of its research, the company surveyed 18 companies in and outside the United States.
"The majority of companies surveyed say they are fully decentralized and using remote work as the primary business model for their company."
"According to the results of our research, almost 33% of the employees of these companies, even those based in the United States, are foreigners. Early-stage companies are more likely to operate remotely, while companies that have organized Series A or B funding rounds are slightly more likely to have one or more offices."
That said, layoffs are still part of the industry dynamic.
Crypto Companies: From Glory to the Gutter
Between inflation, rising interest rates and geopolitical issues, financial markets were exhausted in 2022. As a result, crypto companies took steps to reduce their burdens.
According to Crunchbase News, US-based tech companies laid off more than 73,000 workers between January 1 and November 15, 2022.
Similarly, the layoffs.fyi database reveals that 136,989 workers were laid off by 849 technology companies around the world in 2022 alone.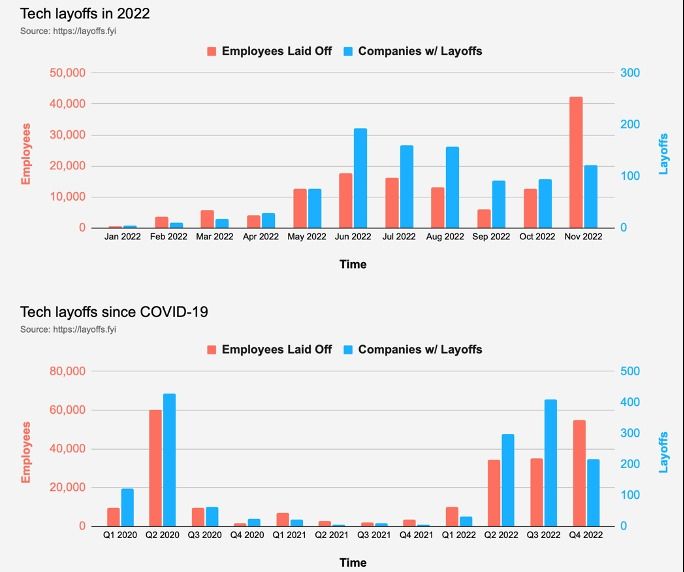 In May, the collapse of the Terra Luna ecosystem sent shock waves through the crypto asset market. About 3,500 employees of crypto companies were laid off during this period.
Crypto and tech giants including Coinbase, Meta, Stripe, and Dapperlabs have all taken steps to downsize.
Patrick Collison, CEO of payments platform Stripe, said in a Nov. 3 statement that 14% of the company's workforce, or about 1,000 employees, will be laid off. "Inflation, energy costs, rising interest rates and falling capital budgets" are believed to be the main reasons for the mass layoffs.
Another giant crumbles
Needless to say, the bankruptcy of the crypto exchange FTX has dealt a serious blow to the entire industry. Indeed, the collapse of Sam Bankman-Fried's empire has sparked another wave of layoffs that has hit many crypto companies, starting with Metaplex.
On the other hand, several crypto startups received significant funding last year. Unfortunately, some of them have failed to manage their cash flow and have multiplied unnecessary expenses, neglecting their core business and improving the customer experience.
Instead of making crypto more accessible to the average user, these companies have spent millions on TV advertising and sponsoring sports teams. For example, Crypto.com spent $700 million renaming the Staples Center in Los Angeles.
Neil Dundon, founder and CEO of CryptoRecruit, points out that despite the crisis, some crypto companies continue to recruit.
"The wave of layoffs hitting the crypto and technology sector presents opportunities for those who are well-funded and can survive. We recruit a lot for regular clients, but also for new projects that have recently raised money. Those who drop out are those who have grown a little too fast and want to lighten their burdens in this turbulent time."
When asked by BeInCrypto about the profiles most requested by crypto companies, Neil Dundon replied:
"It is not really an increase in demand, but companies are increasingly looking for specialists in content creation, community management, marketing, research, etc. Functions that are not part of the core business".
An all-in-one platform for finding crypto jobs
BeInCrypto has created a platform called BeInCrypto Jobs where you can find various job opportunities in the world of Web3 and crypto.
BeInCrypto Jobs currently lists 645 job openings from 154 crypto companies for various occupations ranging from marketing to software development to content creation.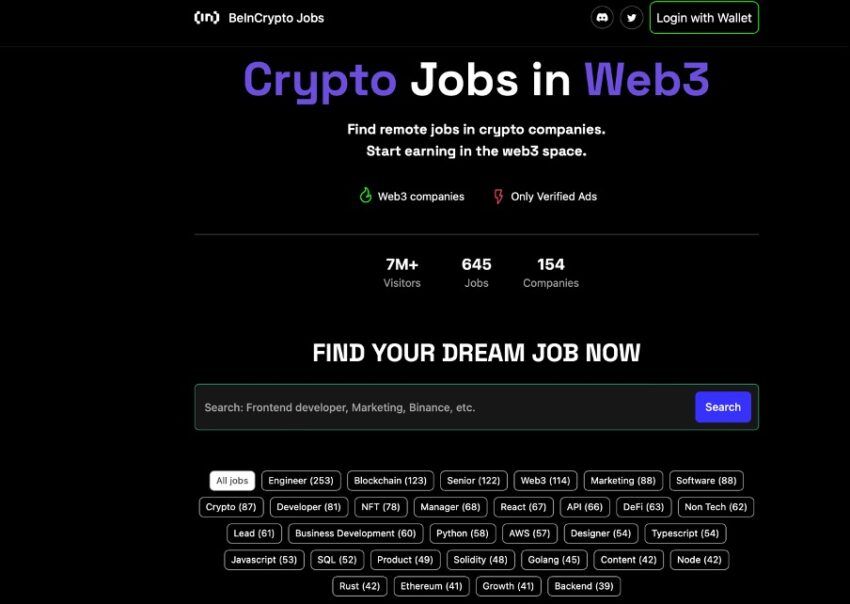 This month alone, 85 marketing jobs have been posted on our platform.
For example, IMPT, a leading company in the blockchain industry, is actively seeking a Marketing Manager with a salary of up to $250,000 per year. Other companies like Nexxyo Labs and even BeInCrypto hire marketers.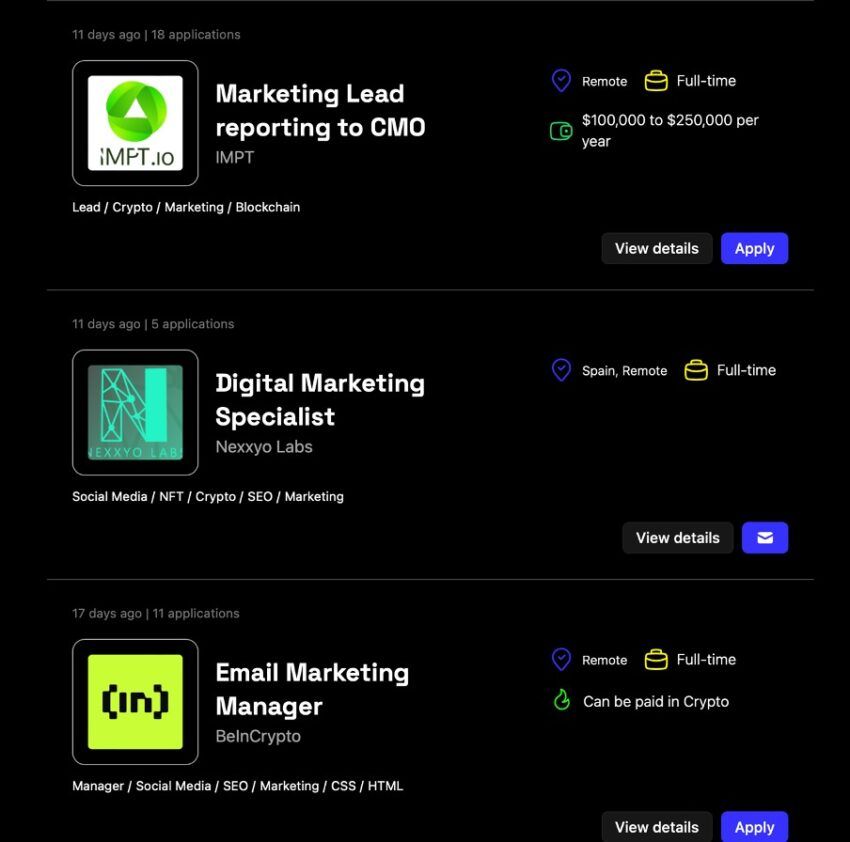 Demand for Web3 profiles remains strong, but candidates need to stand out from the crowd to land the right jobs.
Alena Afanaseva, CEO and Founder of BeInCrypto, recently shared some advice with job seekers looking to get started in this promising and growing field.
disclaimer
All information on our website is published in good faith and for general information purposes only. Any action the reader takes based on information found on our website is entirely at their own risk.